material
Mikrofone, InEar-Monitoring, Funkgeräte, Splitter, Lautsprecher, Multicore, uvm.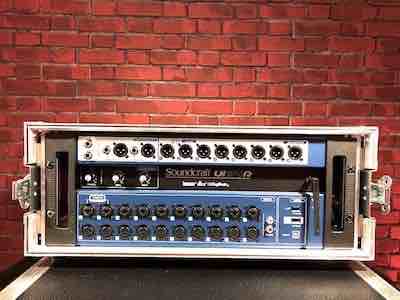 UI24R

24 - Kanal - Mischpult | Soundcraft
The Soundcraft Ui24R is a complete, rack-mountable, digital mixing and multi-track recording system that delivers flexible I/O, pristine sound quality, intuitive wireless control, and roadworthy reliability-all in a streamlined design. The system can double as a stagebox and can be controlled by up to 10 devices via Ethernet or built-in dual-band Wi-Fi, making it possible to control mixing and multi-track recording wirelessly from anywhere in the venue. With renowned HARMAN signal processing, Studer-designed preamps and much more-from the studio to the stage, Soundcraft Ui24R is the ultimate system for artists, venues and engineers who need to save space and deliver superior sound.

Ui24R brings together industry-leading HARMAN technologies to deliver unprecedented power and mission-critical stability. Renowned Studer preamps deliver rich sound for live performance and multi-track recording, while iconic Lexicon reverbs, choruses, delays, and dbx compression offer polished results for vocals, acoustic guitar and more. dbx AFS2 automatic feedback suppression is available on all monitor outputs, providing an excellent live experience. Plus, DigiTech guitar amp modeling brings a host of effects to any performance, particularly when low stage volume is desired.

When you need a mixer with comprehensive connections and a compact footprint, Ui24R provides the perfect, streamlined solution. The Ui24R allows you to mix from multiple sources including 10 combo 1/4"-TRS/XLR, 10 XLR, 2 line level inputs, and 2 channels of digital USB playback for a total of 24 channels. With its flexible and high-quality I/O, Ui24R gives venues, bands and engineers room to grow, with expanded creative options.
(Quelle: Soundcraft.com)
Hauptmerkmale:

20 Mic/Line-Eingänge: 10x XLR, 10x 6,3 mm Klinke Combo
22-Kanal USB Recording "Direct to Memory" 32-Kanal Recording-Interface (I/O via USB-B Port)
2 XLR & Klinke Main-Ausgänge 8 XLR Aux-Ausgänge 2 Kopfhörer-Ausgänge
Signal Processing von dbx, Lexicon, Digitech
20 hochwertige Studer Mic Preamps
Eingangskanäle mit 250ms Delay, 4-Band Parametric EQ, Gate, Kompressor, De-Esser, HPF
8 Aux Busse mit 31-Band Grafik EQ, AFS2 Feedback-Unterdrückung, dbx Kompressor
120-Band Realtime Analyzer (Ein- und Ausgänge)
4 Lexicon Effektbusse (Reverb, Delay, Chorus, Room)
Datenblatt¹:
Frequenzgang: 20 Hz - 20 kHz (± 0.5 dB)
Equalizer: EQ-Channel: Parametrischer 4-Band-EQ (20Hz to 22kHz); Q .05 - 15; Gain -20dB bis +20dB; HPF 20Hz bis 1kHz; LPF 22kHz to 1kHz EQ Outputs: Grafischer 31-Band-EQ, 20Hz - 20KHz; ±15dB
Gate: Pegelschwelle -unendlich bis +6 dB; Attack 1 ms bis 400 ms; Release 5 ms bis 2000 ms; Hold 1 ms bis 2000 ms; Tiefe -unendlich bis 0 dB
Kompressor: Pegelschwelle -90 dB +6 dB; Verhältnis 1:1 - 50:1; Attack 1 ms bis 400 ms; Release 10 ms bis 2000 ms; Makeup Gain -24 dB bis +48 dB
De-Esser: Pegelschwelle -90 dB bis +6 dB; Verhältnis Unendlich bis 1:1; Frequenz 2 kHz bis 15 kHz
dbx AFS: 12 parametrische EQs (6 feste, 6 fließende)
Systemlatenz: 3,2 ms für Ein- und Ausgänge
Audiovorverstärkung (Mic): Mic/Line-Verstärkung -6 dB bis +58 dB
Audiovorverstärkung (Line): Mic/Line-Verstärkung -6 dB bis +58 dB
Konstruktionsprinzip: Digitales 24-Kanal Mischpult. Als 19''-Rackmischer platzsparend einzubinden. Steuerung mittels Tablet, Smartphone oder PC über eine Browser-Oberfläche.
Audioschnittstelle (Input): XLR3, XLR3-Klinke-Kombistecker, Chinch
Audioschnittstelle (Output): XLR3
Audioausgangspegel: Mix-Ausgang max. +20,5 dBu
Eingangspegel (max): Mic-Eingang max. +19,5 dBu; Line-Eingang max. +19,5 dBu
Ausgangspegel (max): Mix-Ausgang max. +20,5 dBu
Eingangsimpedanz: Hi-Z-Eingang >600 kOhm
Ausgangsimpedanz: Symmetrische Ausg&aum;nge <150 Ohm
Kopfhörerausgang: Kopfhörerausgänge bei 500 mW, wenn ein Ausgang verwendet wird (@120 Ohm), 380 mW, wenn beide Ausgänge verwendet werden.
Multipin-Schnittstelle: USB Max. Strom 500 mA; Max. Gesamtstrommenge fär alle Anschlässe: 900 mA
Eingangsimpedanz (Mic): Mic-Eingang 1–2: 4,2 kOhm; Eingang 3–20: 6 kOhm
Eingangsimpedanz (Line): Line-Eingang 12 kOhm
Abmessungen: 177,8 x 482,6 x 165,1 mm
Gewicht: 5100 g
Leistungsaufnahme: < 65 W (typisch)
Versorgungsspannung: Eingangsspannung 88–265 VAC automatische Erkennung
Strom-Schnittstelle: Kaltgerätestecker (IEC-60320 C13/C14)
Fenster schließen
¹(Datenblatt/Komponenten): der im Verleih befindlichen Geräte und Systemvarianten! Der jeweilige Hersteller hat durchaus noch mehr Varianten im Angebot. Siehe dahingehend die Webseiten der Hersteller.
[...]*: Keine Angaben auf den Webseiten der Hersteller. Anmerkungen auf hdg-wireless.de.